CATHOLIC UNIVERSITY EDUCATION TODAY
ABOUT THE BOOK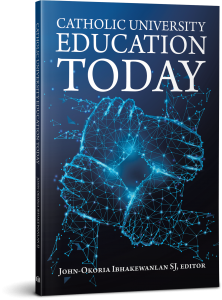 Our common mission and vision as Catholic universities compel us to collaborate. Inspired by the same religious and social values, we prepare our graduates to serve and to live the path to a more just and communal world. According to the current Superior General of the Society of Jesus (aka Jesuits), Fr Arturo Sosa SJ, our tertiary institutions need "to form an effective network … to collaborate in the development of creative thinking that may propel the new age of humanity towards social justice, dignity and peace."
That spirit of collaboration brought together, for the first time, the heads of twenty-three Catholic universities and tertiary institutions across Eastern Africa. Those heads of tertiary institutions met at Hekima University College in Nairobi from the 19th to the 22nd of November 2019. Their discussions lasted over three days. This book is the result of the presentations at that conference.
One of the first papers presented and discussed focuses on the protection of minors and vulnerable adults in our universities. This represents a growing area of concern in the Catholic Church today. It raises the need for a robust child protection policy in all our institutions. Tom Kearney discusses this topic in the third chapter, "Child Protection/Safeguarding Protocol in our Universities and Colleges". Child protection delineates a difficult topic for conversation in African institutions. Many people in Africa still believe strongly that "a child of my neighbour is my child". Some lament that too many Africans have "lost concern for children who are not biologically theirs". Still, others decry the fact that some of the abuses of children happen within the family. The statistics of child abuse in schools and public offices paint a scary picture. Hence Dr Kearny invites us to respond to this issue of safeguarding and protection of children and vulnerable adults as a matter of significant importance for Catholic universities in Africa. The discussions at the conference suggest that some of our institutions still do not have enough trained personnel in the area of child protection and safeguarding. Beyond the question of number of trained personnel lies the need for a thorough spiritual formation for everyone in a Catholic university.
Some would indeed argue that spiritual formation at a Catholic university emerges as a critical priority. As Graham Pugin states in the second chapter of the book, "the extent to which you are serious about Catholic university education will be indicated by how seriously you take spiritual formation." Pugin has written as a veteran chaplain to several tertiary education institutions (the University of Cape Town, Stellenbosch University, Oxford University, the University of the Western Cape, and a few others) almost continuously since 1989. His piece in this volume reflects his rich experience of good practice. Rather than get entangled in abstract issues, he engages in the normal student issues that affect young adulthood, such as falling in love and falling out of love, as well as facing academic, faith, and financial challenges. While the author asserts that university students represent very desirable vocations, Catholic universities today have to do more to harvest such great potential for labourers in the Lord's vineyard. Pugin insists that spiritual formation in the university "is rather like vocation promotion …" How should a Catholic university achieve this spiritual formation?
The guiding document for Catholic education today is Pope Francis' Veritatis Gaudium ('Joy of the Truth'). As an apostolic constitution, it has a legally binding ecclesiastical authority for the renewal of Catholic universities—more specifically of ecclesiastical studies. In his preface to the document, the pope calls for a "thoughtful and prophetic renewal of ecclesiastical studies at every level, as part of the new phase of the Church's mission". In chapter 4, the president of the Jesuit Faculty of Theology for Africa and Madagascar, Deogratias Rwezaura, deals with "understanding Veritatis Gaudium in light of Evangelii Gaudium". Veritatis Gaudium serves as a continuation of Pope Francis's programme of bringing the joy of Christ to God's people. According to Rwezaura, the document Veritatis Gaudium seeks to inspire ecclesiastical faculties and universities to live the gospel in truth and joy. It aims to bring about the "civilization of love" to all peoples. This section of the book shows the relevance of Veritatis Gaudium to ecclesiastical studies in Africa today and focuses on contextualized research, interdisciplinarity, and the need for practical renewal and networking across African ecclesiastical universities and faculties. The discussions at the conference emphasized this need for a contextual or contextualized approach to our research investigations. How do we orient our institutions towards an integral formation with a global perspective (concerned about the entire human family) rooted in the African context? Therein lies our common challenge as Catholic universities in Africa.
In chapter 5, "Our Common Mission as Catholic Institutions", Patrick Chilambwe looks at the many challenges on the continent that have caused an "educational emergency". These challenges include scarce resources and a dearth of good governance or proper management. Chilambwe insists on bringing the qualitatively distinctive characteristic of the Catholic ethos of education to bear on these challenges. As stated clearly by the Congregation for Catholic Education, a Catholic institution does not function as a factory for learning skills and competencies to serve the needs of businesses and industries. Rather, in today's context, teaching and research must have a holistic character. His piece in this volume calls this academic community of faith to remain faithful to articulating the vision behind the identity of a Catholic university in the context of a rapidly changing world. Beyond mere rhetoric, the university climate encompasses the values expressed in our mission and vision statements. He suggests that we need to "rethink Catholic tertiary education" as a project of moral configuration of the individual and the community in order to transform the African society and achieve the highest goals of humanity.
In chapter 6, Peter Knox explores the environmental project of a Catholic university today. His paper, "Laudato Si' and Veritatis Gaudium: Teaching Care of Our Common Home in a Catholic University", highlights the classical see-judge-act pastoral circle dynamic employed by the 2015 encyclical Laudato Si'. The papal encyclical, subtitled On Care for Our Common Home, has only a few specifics on the role of environmental education in a Catholic university. However, the pope expands that in the December 2017 apostolic constitution (Veritatis Gaudium) on ecclesiastical universities and faculties. Knox recognizes this thematic continuity in both encyclicals and develops the relevant ideas. He further insists that the pope's ideas relating to environmental education ought to make a concrete and practical difference in our universities today. This requires creativity, research, and innovation.
In chapter 7, Vincent Ogutu examines research and innovation in Catholic universities. Is research more prestigious than teaching in our university system? Should innovation take a central place today because of developments in this fourth industrial revolution? Excellence in research and innovation represents a critical need for Catholic universities. Yet novelty need not eclipse the importance of tradition. Hence Ogutu looks critically at the dual role of teaching and research at our universities. A perception exists that the ability of Catholic institutions to apply the scientific approach to research faces certain constraints out of concern for respecting defined doctrine. This perception may hold some validity. For example, a Catholic scholar may not engage in experiments that involve the killing of embryos or cloning of humans. Does that mean scholarship cannot advance within Catholic tertiary institutions? Ogutu's discussion of the relationship between faith and reason helps shed contemporary light on this ancient dilemma. His synthesis should embolden Catholic institutions to embark on the project of research and innovation. Today new problems have emerged in the social and natural sciences that researchers need to address proactively, using the principles of Catholic morality or social teaching. This represents one area that other universities do not focus upon.
In chapter 8, Stephen Mbugua looks at the "Sustainability of Catholic Education Today". This problem arises in the context of the increasing number of other (non-Catholic) universities. Hence the resultant competition for student enrolments today. According to Mbugua, an urgent need exists for Catholic universities to create new niches. This does not preclude valuing other factors that attract students, such as the tuition and the brand name of a university. Given these key factors to the growth and sustainability of our universities, what should our sustainability be based on? Our mission comprises more elements than temporal durability. Mbugua's pillars of sustainability include elements that are social, cultural, branding, and financial. These may indeed enable us to integrate social, economic, and environmental factors in our universities. A continuous assessment of the pillars on which our universities stand may ultimately determine the validity of our claims to the title "temple of learning".
In his closing message to the conference, the Apostolic Nuncio (Vatican Ambassador) to Kenya and South Sudan, Most Revd Hubertus Matheus Maria van Megen, made the case for the mission of universities of the church as "Teaching in the Temple". His message concludes this book. According to His Excellency Archbishop Megen, Catholic universities not only produce empirical knowledge. More importantly, they create spaces to challenge students "to go deeper, duc in altum: that is to know about the depth and the breadth of the reality that surrounds us". He challenges us to become both teachers and spiritual masters. Incidentally, the gospel reading for his closing Mass at the conference tells the story of Jesus cleansing the temple, saying "My house shall be a house of prayer but you have made it into a den of robbers." If our universities take seriously the mission of teaching in the temple, a similar need may arise to cleanse our institutions from corruption, untruth, and whatever else may constitute impurity.
Some readers may notice a lack of thematic unity in these chapters, because the contributors represent a multiplicity of perspectives. This is typical of a book that contains the outcome of an academic conference.
Diversity offers richness and significant insights drawn from various backgrounds. Reflecting on Catholic university education today is an inviting enterprise that should thus continue to yield varied insights.